Yorkshire Dales chief sleeps out to help homeless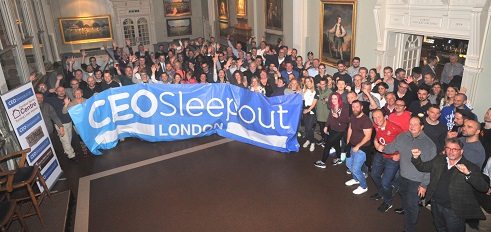 The above photograph appears by courtesy of the Yorkshire Dales Millennium Trust
David Sharrod, CEO (Chief Executive Officer) of the Yorkshire Dales Millennium Trust, swapped his cosy bed in a quiet Yorkshire Dales village for a sleeping bag in London for a night, to raise awareness and funds for homeless people.
On Monday 31 October 2016 David joined around 170 other CEOs at Lord's cricket ground in London as they gave up their bed for one night to help those who donít have one.
Participants were asked to lead by example by braving the cold and sleeping outdoors side-by-side with their peers to raise awareness and funds for homeless people in London.
This ground-breaking event was held by CEO Sleepout UK, a charity set up to fight homelessness and poverty. As a partner charity, Depaul UK work to tackle the immediate and long term effects of youth homelessness, provide safe and stable futures for young people who are left behind by society, and are severely disadvantaged.
David Sharrod said: "In my role as chair of Postcode Care Trust I have been lucky to get to know the great people at Depaul UK - one of the fantastic charities we are able to support with funding from players of Peopleís Postcode Lottery. Depaulís work can be both distressing and uplifting; seeing the way they change the lives of young people, but also seeing how many people reach out through them to help through initiatives like Nightstop where ordinary people open their homes to homeless young people across the country.
"I and my family lead lucky lives, and I wanted to try to make a small difference to the lives of less fortunate individuals. I know one night out isnít exactly that much of a hardship Ė I was soon back in my own comfortable SAFE bed Ė but it really was an eye-opener and I hope it offers people the chance to also help."
Suzanne McCarthy, Depaul UKís Chairperson, said: "Chief executives, senior managers, and politicians of all major parties and many others selflessly slept out to help people facing homelessness.
"Last year, the situation got much worse for people affected by homelessness in the UK, with government figures showing there was a steep rise in homelessness and rough sleeping. So the money raised for Depaul is more vital than ever and I want to thank every individual who took part for all for their support."
The CEO Sleepout event aimed to raise £180,000 to support homeless people. You can show your support by sponsoring David at https://www.justgiving.com/fundraising/David-Sharrod
[N.B. Please mention the Eagle Intermedia Yorkshire Dales website when making your enquiries.]
[News item based on press release supplied by the The Yorkshire Dales Millennium Trust, posted November 2016.]
---
The Yorkshire Dales is designed and maintained by Eagle Intermedia Publishing Ltd.