Flowers of the Dales Festival 2017 programme announced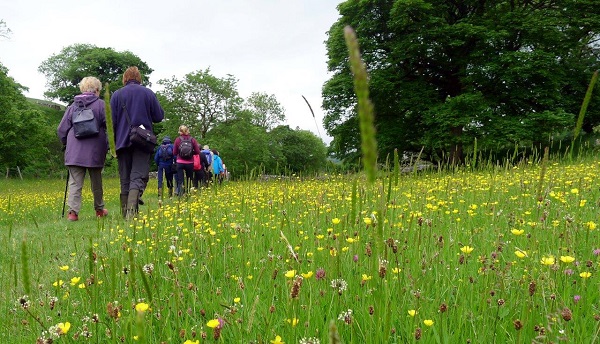 The above photograph appears by courtesy of the Yorkshire Dales Millennium Trust
An annual celebration of wildflowers and nature in the Yorkshire Dales will soon be underway, as the Flowers of the Dales Festival returns for its ninth year in 2017.
The Festival kicks off on 1st March 2017 and runs until the end of October, bringing together more than 120 events led by passionate experts and enthusiasts in and around the Yorkshire Dales.
Coordinated by local charity the Yorkshire Dales Millennium Trust (YDMT), and sponsored by Parkfoot Holiday and Park Homes, the Festival showcases some of the regionís nationally and internationally important habitats which support many native species of wildflowers, insects, birds and mammals.
The programme for the festival includes events ranging from guided walks and bumblebee talks, to family-friendly nature trails and bug hunts, to identification courses, hands-on conservation activities, arts and crafts.
YDMTís Flowers of the Dales Project Officer, Leah Cardus, said: "We are very lucky to have such a rich and vibrant landscape on our doorstep, home to an array of native species. Through the Festival we aim to provide opportunities for people of all ages to explore the Yorkshire Dales and discover this for themselves. More than 33,000 people have taken part since the first Festival in 2009, and I hope many more will be inspired to get involved this year."
Clara Govier (Head of Charities at the Peopleís Postcode Lottery, which along with individual donors has also provided support for the festival) added: "Our players have raised £1,226,332 for Yorkshire Dales Millennium Trust to date, enabling the team to deliver many varied projects, including the annual Flowers of the Dales Festival. The huge range of events provide opportunities for people of all ages to explore the natural environment, be inspired to visit the countryside and perhaps learn something new."
The Flowers of the Dales Festival programme can be downloaded from the Yorkshire Dales Millennium Trust website at http://www.ydmt.org/festival2017.
[N.B. Please mention the Eagle Intermedia Yorkshire Dales website when making your enquiries.]
[News item based on press release supplied by the The Yorkshire Dales Millennium Trust, posted February 2017.]
---
The Yorkshire Dales is designed and maintained by Eagle Intermedia Publishing Ltd.