Progress of Yorkshire Dales "Hay Time" meadows appeal announced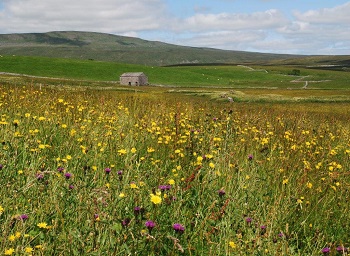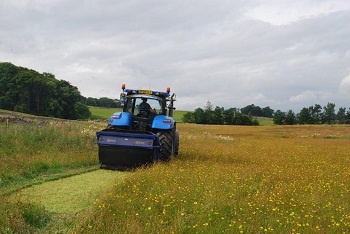 The above photographs appear by courtesy of the Yorkshire Dales Millennium Trust
Back in April 2013 the "Hay Time" meadows appeal was launched by the Yorkshire Dales Millennium Trust (YDMT) with the aim of raising £150,000 to fund an ongoing programme of meadow restoration and education work.
Now, a little over two years into the three year appeal, the YDMT are delighted to confirm that £142,539 has already been raised thanks to generous donations from individuals and local businesses, and grants from charitable trusts.
Together with the vital support and commitment of farmers and landowners, this has allowed the "Hay Time" project to continue across the Yorkshire Dales region and expand into the Forest of Bowland, and many of the original targets for the appeal have already been far exceeded.
Aims to re-introduce wildflowers into 20 hectares of degraded meadow each year have been surpassed. In 2013 the team added sustainably sourced seed to more than 60 hectares of degraded meadowland, 65 hectares in 2014, and a further 75 hectares are planned for this summer.
This is great news for the future of wildflower hay meadows, which are currently one of the most threatened habitats in Britain. Over the last fifty years 97% of meadows in the UK have been lost - only 1000 hectares (less than 4 square miles) survived putting many of our native wildlife species, and links with our cultural heritage, at risk.
Chris Myers, TV presenter and "Hay Time" appeal ambassador, said: "I feel very lucky to have grown up with the stunning wildflower hay meadows of the Yorkshire Dales right on my doorstep. This natural beauty has provided the inspiration for much of my work as a garden designer, and I think it is so important that we safeguard these habitats for future generations of youngsters to enjoy. That's why YDMT's work to save these precious meadows is so important."
Education targets have also been exceeded – YDMT hoped to work with 250 children each year, and have actually delivered educational activities and meadow visits attended by over 350 children from almost 20 different schools each year in 2013 and 2014, and are on track to meet the target again this year.
Adults have also been getting involved, learning how to identify and record wildflower and bumblebee species. More than 500 people have learnt new skills since the launch of the appeal.
Tanya St. Pierre, Hay Time project officer, said: "I am thrilled that we have already been able to exceed many of our original aims for the appeal, but we want to carry on the momentum of the project and achieve even more. So we've increased our fundraising target for the Appeal to £200,000 to enable us to build on this success in 2016 and make a real difference for future generations. I hope that people and organisations will dig deep to help us achieve this."
To find out more or to make a donation please visit http://www.ydmt.org/HayTimeAppeal
[N.B. Please mention the Eagle Intermedia Yorkshire Dales website when making your enquiries.]
[News item based on press release supplied by the The Yorkshire Dales Millennium Trust, posted August 2015.]
---
The Yorkshire Dales is designed and maintained by Eagle Intermedia Publishing Ltd.