The Aire Gap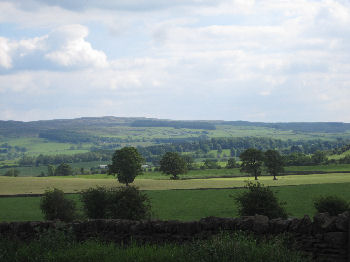 The so-called "Aire Gap" is a wide break in the Pennine Hills near Skipton at the southern edge of the Yorkshire Dales. The name is, however, somewhat of a misnomer - as the River Aire only flows down the eastern side of the gap, with the broad basin of the River Ribble and part of the Ribble Valley forming the western side.
Geologically the Aire Gap lies between the Craven Fault and the limestone uplands of the Yorkshire Dales to the north and east, and the predominantly millstone grit moors of Pendle Witch Country and Bronte Country, to the south and west.
As what is effectively a geographical "corridor" through the Pennine Hills between Yorkshire and Lancashire, the Aire Gap has been of considerable strategic importance in days gone by, with the castle at Skipton overseeing the general area. As one of the lowest crossing points in the Pennine chain the Aire Gap was also the obvious choice for the route of the Leeds - Liverpool canal, which passes through Nelson, Colne, Barnoldswick, Gargrave and Skipton, and was constructed in the eighteenth century to provide navigable transport between the port of Liverpool (on the west coast of the Irish Sea) and the industrial centres of Leeds, Saltaire and Bradford in the heart of West Yorkshire's Bronte Country.
Places on the A65 (which passes through part of the so-called Aire Gap) include Long Preston (which is actually on the River Ribble), Hellifield, Coniston Cold, Gargrave and of course Skipton.
---
The Yorkshire Dales - Home Page
The Yorkshire Dales website is designed, maintained and promoted by Eagle Intermedia Publishing Ltd.