The Burning of Old Bartle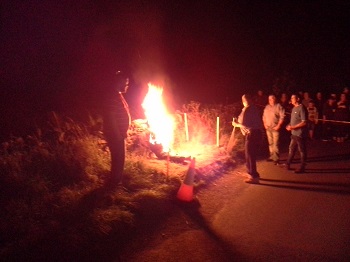 The Burning of Old Bartle is an annual ceremony held in the village of West Witton near Leyburn in Wensleydale which usually takes place after sunset in the evening on a Saturday close to St. Bartholomew's Day in August.
The tradition sees locals carrying an effigy of "Old Bartle" or "Owd Bartle" through the village while pausing for doorstep drinks at selected houses along the way. A verse about the pursuit and fate of Old Bartle is chanted and between stops an antler adorned rustic "green man" styled figure with pipes plays an eiree tune. Once outside the village the effigy is burned, but the revelries continue in to the night..
Nobody seems to know the origins of the tradition, or who Old Bartle actually was. The connection with St Bartholomew's Day has led some to suggest that "Old Bartle" is actually "St. Bart" (i.e. St. Bartholomew) himself, though quite why his pursuit, capture and ritual murder by immolation should be celebrated in a pagan style ceremony with overtones of the classic British horror drama film "The Wicker Man" one can only surmise..
Another theory holds that Old Bartle was a sheep rustling ne'er do well (or perhaps simply just an innocent victim?) who fell out of favour with his peers and came to a grisly end. The doggerel chanted tells of some kind of chase taking in Penhill and other local landmarks, with Bartle succombing to various terrible injuries before being finished off just outside the village.
So goes the verse: "At Grassgill End we'll make his end.."
---
The Yorkshire Dales - Home Page
The Yorkshire Dales website is designed, maintained and promoted by Eagle Intermedia Publishing Ltd.