The Chevin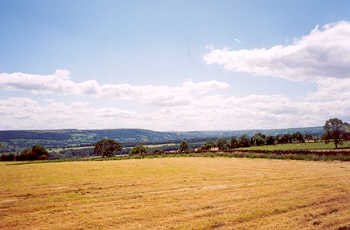 Sometimes also known as the "Otley Chevin", the Chevin is a high escarpment overlooking the town of Otley and the lower reaches of the valley of Lower Wharfedale.
Much of the ridge is wooded, but there are breaks in the trees, and the so called "Surprise View" at the summit offers fine views over Otley and the very lower end of Lower Wharfedale.
The top of the Chevin broadens in to a wide plateau to the south, where Yeadon and Leeds Bradford International Airport is situated.
Every year a large cross is raised on the Chevin at the site of the "Surprise View" to commemorate the cruxifixion of Jesus as part of an annual tradition which dates back to 1968. A new cross was made in 2000 using timbers salvaged from the Arndale Centre in Manchester (which was bombed by IRA terrorists in 1996) in a gesture symbolic of Easter rebirth and resurrection.
---
The Yorkshire Dales - Home Page
The Yorkshire Dales website is designed, maintained and promoted by Eagle Intermedia Publishing Ltd.