The Great Yorkshire Show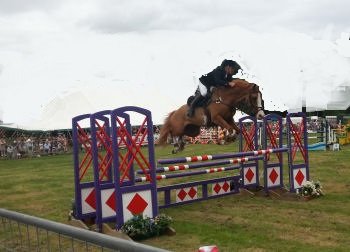 With origins going back to 1837 and the foundation of the Yorkshire Agricultural Society, the Great Yorkshire Show is currently England's largest agricultural show.
The first staging of the event was held in 1838 and initially ran at different venues throughout the county of Yorkshire, though it is now held annually (usually in July) at the event dedicated Great Yorkshire Showground just outside the centre of Harrogate.
Although the show is primarily an agricultural event there are usually country pursuits, field sports and equine competition (including e.g. showjumping - a sport which is pictured above), general entertainments and arena displays as well as exhibitors representing all kinds of businesses from Yorkshire, and beyond.
Besides the main ring events there are usually sections of the ground devoted to livestock (including cattle, sheep, pigs and goats), horses, food and lifestyle, agricultural machinery and motoring etc.
The Great Yorkshire Show has often featured on T.V. and has been attended on numerous occassions by members of the Royal Family.
---
The Yorkshire Dales - Home Page
The Yorkshire Dales website is designed, maintained and promoted by Eagle Intermedia Publishing Ltd.