The Howgill Fells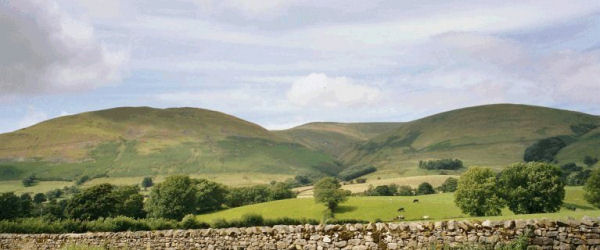 The Howgill Fells are situated in the far north western corner of the "Yorkshire" Dales - although most of this area now lies in Cumbria and is geologically quite different to the predominantly limestone countryside of most of the rest of the (mainly Carboniferous) Yorkshire Dales.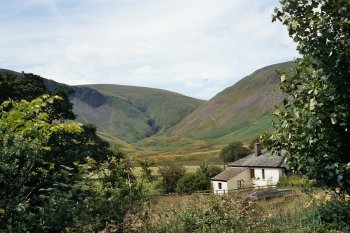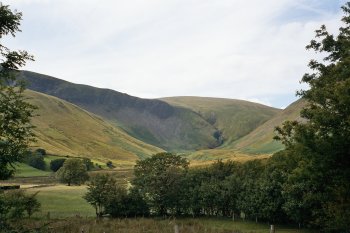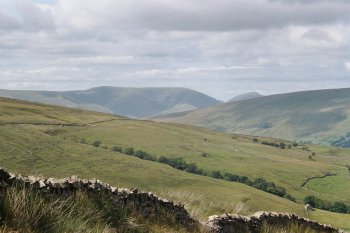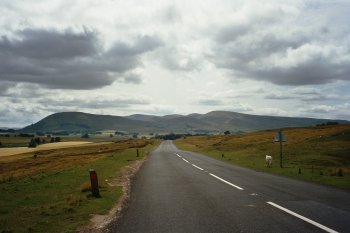 Being composed of much older Silurian and Ordovician slates and gritstones and separated from the the carboniferous limestone country of the Yorkshire Dales by the Dent Fault, the Howgill Fells are rounded and rolling and are geographically more a part of the Lake District (in to which they actually merge to the west).
Famous fells in the Howgills range include Winder (which towers above Sedbergh and Garsdale), the Calf (which is the Howgills' highest point), Uldale Head and Langdale Fell (not to be confused with the Langdale Pikes in the nearby Lake District).
There are several waterfalls on the Howgills, including those within the ravine of Carlin Gill (which hangs over the Lune Valley and the route of the M6 motorway as it skirts the Howgills between Killington Lake and Tebay to the west), and Cautley Spout on the shoulder of the Calf near Sedbergh itself.
Beyond the Howgill Fells to the north is the wide expanse of the Eden Valley, which marks the boundary between the northern dales and the Lake District to the west.
More information about the Howgill Fells
The following (externally maintained) Howgill Fells related websites and information sources may also be of interest:
Eagle Intermedia Yorkshire Dales
website when making your enquiries.]
IMPORTANT: The above links may refer to external websites whose content, products and/or services are not necessarily recommended or endorsed by Eagle Intermedia. Please see the copyright and disclaimer statement for more information.
---
The Yorkshire Dales website is designed, maintained and promoted by Eagle Intermedia Publishing Ltd.