The Cow and Calf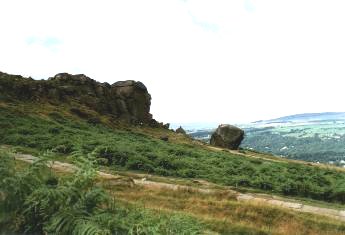 Perched on Ilkley Moor above the spa town of Ilkley, the "Cow" is a large outcrop of Millstone Grit, the "Calf" being a smaller bolder at its foot.
Popular with rock climbers and walkers and ramblers, the area around these rocks commands some fine views over the town of Ilkley and lower Wharfedale.
---
Ilkley (on the edge of the Yorkshire Dales) - Home Page
The Yorkshire Dales website is designed, maintained and promoted by Eagle Intermedia Publishing Ltd.