Ilkley Moor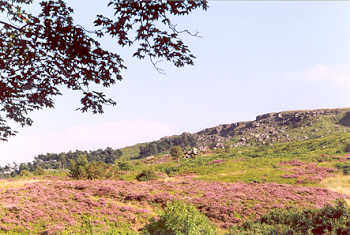 Some more views of Ilkley Moor
Ilkley Moor (which is part of the wider Rombalds Moor) is an expanse of moorland lying directly above the pleasant spa town of Ilkley in West Yorkshire.
Special attractions on the moor include Ilkley Tarn, the Cow and Calf rocks, the bath house at White Wells, the Twelve Apostles and numerous prehistoric rock carvings (including the Swastika Stone as well as other "cup and ring" patterns as seen on the Panorama Stone and elsewhere about the moor).
Ilkley Moor is also famous as the setting of the folk song "On Ilkla Moor Baht'at" - widely recognised throughout the world as Yorkshire's county "anthem".
---
Ilkley (on the edge of the Yorkshire Dales) - Home Page
The Yorkshire Dales website is designed, maintained and promoted by Eagle Intermedia Publishing Ltd.