Kirkby Stephen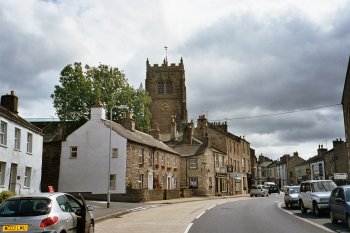 Now lying within the county of Cumbria, Kirkby Stephen lies at the northern end of Mallerstang Common and in the Eden Valley on the Settle Carlisle railway line at the very north western edge of the "Yorkshire" dales region.
At the heart of the town is Kirkby Stephen Parish Church, a place of Christian worship which dates from Anglo-Saxon times. The church is often referred to as the "Cathedral of the Dales" and contains within it the Loki Stone, a carved monolith which is believed to depict the Norse god Loki. Discovered during rebuilding works in 1847 this Viking carving was made sometime around the 10th century, though some think the figure is meant to be actually a bound devil rather than Loki.
Nearby attractions include Mallerstang Common and the ruins of Pendragon Castle - which is said to have been the home of Uther Pendragon (the father of King Arthur in English Arthurian legend).
Also nearby is Smardale Gill and its famous viaduct.
---
The Yorkshire Dales - Home Page
The Yorkshire Dales website is designed, maintained and promoted by Eagle Intermedia Publishing Ltd.