This site uses cookies for analytics and affiliate tracking purposes. Please click here for more information.
The Settle - Carlisle Railway
ABOUT | THE ROUTE | VIEWS | BOOKS | LINKS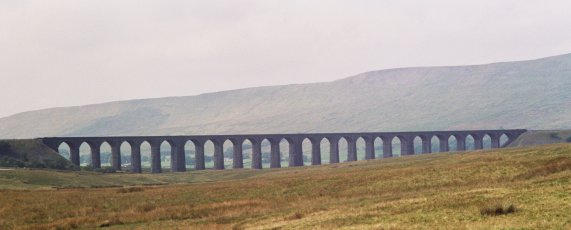 The Settle Carlisle Railway is without doubt one of Britain's most spectacular railway lines.
Originally built by the Midland Railway Company as part of an ambitious route to Scotland, construction began in 1869 and the line was opened in 1876. Given the nature of the terrain the civil engineers faced many technical challenges, including the building of the famous Ribblehead Viaduct (pictured above) spanning Batty Moss at Ribblehead (pictured above), and the Blea Moor tunnel which passes under the eastern flank of Whernside.
In the 1980s the line was almost closed, but thanks to much lobbying and campaigning by the public and politicians (including the railway enthusiast, cabinet minister and now TV presenter Michael Portillo) the line was saved and remains an integral part of the UK rail network. Indeed the Settle to Carlisle line is often cited as being one of Britain's most spectacular routes.
Starting out from amidst the limestone uplands around Settle the line heads north up the valley of Ribblesdale between the towering gritstone capped fells of Ingleborough and Pen-y-Ghent (with some particularly good views of the latter being seen on passing through Horton-in-Ribblesdale).
At the head of Ribblesdale the line climbs onto open moorland and across the magnificent 24 arched span of the Ribblehead Viaduct (pictured above), before entering the one and a half miles of the Blea Moor Tunnel under the eastern flank of Whernside.
The line emerges into Dentdale (one of the more remote - and dramatic - northern dales) at Dent Head and then on through more tunnels to Garsdale Head (at the head of Garsdale) before descending in to Mallerstang Common (actually a deep mountain valley) - at the end of which the line passes by Kirkby Stephen, through Appleby in Westmorland and along the Eden Valley up to the northern terminus at Carlisle.


Steam and Railway Books from the Eagle Intermedia Online Bookstore
---
The Settle Carlisle Railway - Home Page
The Yorkshire Dales website is designed, maintained and promoted by Eagle Intermedia Publishing Ltd.