Malham Tarn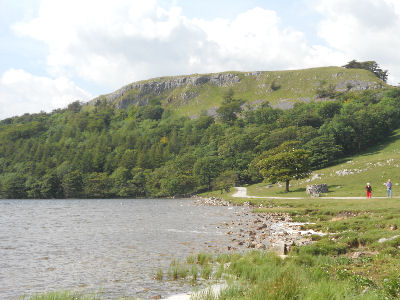 Some more views of Malham Tarn
Set high above Malham on Malham Moor, Malham Tarn is a large lake formed by glaciation in the last ice age, made famous as the setting for Charles Kingsley's classic children's novel, "The Water Babies".
Today, despite its wild location, Malham Tarn attracts many visitors to its nature reserve, where a pleasant walk leads along the shoreline to Tarn House, a remote country house which now houses a residential environmental field studies centre.
Overlooked by the gleaming limestone cliffs of Great Close Scar, observant visitors may well wonder why the waters of Malham Tarn do not simply sink in to the ground given the limestone scenery which surrounds them. The reason for this is that the tarn actually lies on a bed of slate which have has displaced by the Craven Faults. However, on flowing southwards the water from the tarn soon meets limestone at Water Sinks, and quickly disappears underground at this point.
The Pennine Way long distance footpath leads past Malham Tarn and then on to Fountains Fell and Penyghent on its route northwards through the Yorkshire Dales.
---
Malham (in the Yorkshire Dales) - Home Page
The Yorkshire Dales website is designed, maintained and promoted by Eagle Intermedia Publishing Ltd.