Renewables company supports woodland restoration in the Yorkshire Dales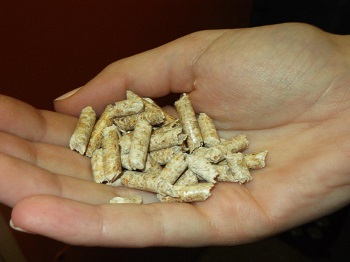 The above photograph of biomass pellets appears by courtesy of Sunuser Ltd.
Renewable energy experts Sunuser Ltd. have teamed up with local charity the Yorkshire Dales Millennium Trust (YDMT) to celebrate the launch of their new biomass boiler systems (which use "environmentally friendly" biomass pellets such as those pictured above as fuel) by supporting woodland restoration in the Yorkshire Dales area.
To celebrate the companyís new biomass boiler, a sapling tree will be dedicated on behalf of each customer purchasing a Sunuser biomass boiler system, bringing long term environmental benefits as well as helping to enhance the landscape and create a valuable wildlife habitat in the heart of the Yorkshire Dales.
Sally Hayton, Founder and Managing Director of Sunuser Ltd., said: "Weíre delighted to be working with YDMT and supporting the landscape of the Yorkshire Dales. Our customers will not only be saving and earning with our biomass boiler systems but giving back to the community at the same time."
The first tree has already been dedicated in Longridge Wood in Bishopdale to celebrate the installation of a biomass boiler system at Sunuserís Head Office in Leeds.
Chris Lodge, Woodland Officer at YDMT, said: "Iíd like to say a big thank you to the team at Sunuser Limited for choosing to support our work in this way. Itís great to work with organisations who share our passion for woodlands, wildlife and the environment. By working together we can play a crucial role in restoring broadleaf woodland cover in the Yorkshire Dales for future generations."
The Dales Woodland Restoration Programme is delivered and funded by a partnership including the YDMT, the Yorkshire Dales National Park Authority and the Forestry Commission. More than 1.1 million new native broadleaf trees have been planted through the programme so far.
For more information about the programme, please contact the Yorkshire Dales Millennium Trust.
[N.B. Please mention the Eagle Intermedia Yorkshire Dales website when making your enquiries.]
[News item based on press release supplied by the The Yorkshire Dales Millennium Trust (YDMT) posted November 2014.]
---
The Yorkshire Dales is designed and maintained by Eagle Intermedia Publishing Ltd.