The Ripon Hornblower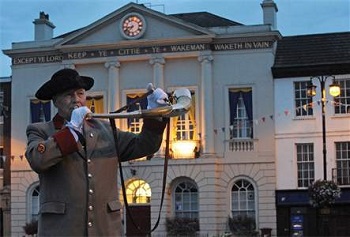 The above photograph appears by kind courtesy of the Ripon Hornblower.
The Ripon Hornblower conducts the ancient ceremony of "Setting the Watch" at 9 p.m. in the evening in Ripon. He does this by sounding the horn at the four corners of the market cross to let the people know it is now safe for sleeping. This is believed to be the longest unbroken daily ceremony in the world having not been missed not for one night in 1128 years, and has taken place ever since Alfred the Great granted a charter to the City in the form of a horn in 886.
The current hornblower is George Pickles, who has been charged with the responsiblity of guaranteeing the uninterrupted continuity of the ceremony since 2004. The ceremony attracts around ten thousand people each year with as many as a hundred on some evenings. Besides conducting the ceremony George give talks on the history of "Setting the Watch" to groups throughout the country - thereby keeping alive a centuries old tradition in the minds of the public !
For more information, please visit the official website of the Ripon Hornblower.
[N.B. Please mention the Eagle Intermedia Yorkshire Dales website when making your enquiries.]
The above information appears by kind courtesy of the Ripon Hornblower.
IMPORTANT: Links may refer to external websites whose content, products and/or services are not necessarily recommended or endorsed by Eagle Intermedia. Please read the copyright and disclaimer statement for more information.
---
The Yorkshire Dales - Home Page
The Yorkshire Dales website is designed, maintained and promoted by Eagle Intermedia Publishing Ltd.