An Evil Bloodsucking Gnome (?)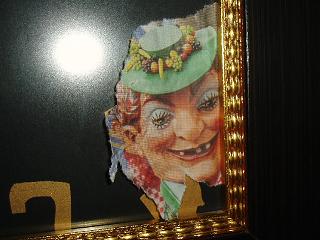 : @evilgnome21 - formerly @evil_gnome (account currently suspended for reasons unknown)
..if you dare!
Not sure if the ghastly looking thing pictured above is an evil bloodsucking gnome of the type allegedly found in the darker recesses of Troller's Gill near Appletreewick in the "Barden Triangle" area of the Yorkshire Dales, though whatever it is sure does look evil - and is probably bloodsucking as well..
[Technical note: this fiendish apparition was unexpectedly captured with an Olympus Mu using automatic flash in the mirror of a hotel room at an undisclosed location and at an unspecified time. An interesting (and nightmarish) candidate for a "strange thingies" website - if ever there was one!]
Other gnome related websites
The following related links may also be of interest:
If you would like to suggest a gnome related website for possible inclusion in the above list, then please contact Eagle Intermedia.
---
The Yorkshire Dales - Home Page
The Yorkshire Dales website is designed, maintained and promoted by Eagle Intermedia Publishing Ltd.