Troller's Gill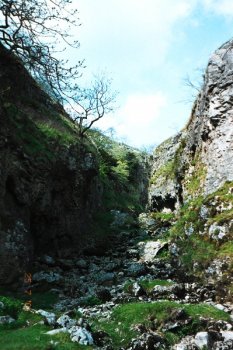 Troller's Gill is a sinister little ravine at the head of Trollerdale near Skyreholme and the village of Appletreewick in the "Barden Triangle" area of the Yorkshire Dales.
Legend has it that this narrow limestone gorge is the haunt of the "Barghest" or "Barguest" - a terrifying spectral hound which is said to have "eyes as big as saucers", and which may have given inspiration for Sir Arthur Conan Doyle's famous Sherlock Holmes story "The Hound of the Baskervilles".
The nooks, caves and crannies of Troller's Gill are also said to be the home of Scandinavian trolls*, evil bloodsucking gnomes, flesh-eating boggarts, hideous gargoyle-like rock sprites, deranged goblins, predatory pixies and maliciously twisted imps - and perhaps even other sorts of similarly diabolical and fiendishly unpleasant beings lying in wait for the unsuspecting rambler..
[* = N.B. The trolls in particular are said to hurl rocks down on passers-by walking through the ravine. So watch out !]
Near the head of the gill there are a series of disused mine workings as well as natural caves and potholes - including the ominously named "Hell Hole" :-(
Being fairly off the beaten track this isolated ravine can often be unsually eiree and strangely quiet. Whether or not you believe in spectral hounds, Nordic gremlins or indeed any of the other aforementioned horrors, an excursion to this often overlooked little corner of the Barden Triangle can be a strangely chilling and oddly disturbing experience. Troller's Gill is not a place to be visited alone..
Other local information websites:
For more information about Troller's Gill, Skyreholme and the surrounding area, please also visit the following externally maintained website(s):
[N.B. Please mention the Eagle Intermedia Yorkshire Dales website when making your enquiries.]
---
The Yorkshire Dales - Home Page
The Yorkshire Dales website is designed, maintained and promoted by Eagle Intermedia Publishing Ltd.