The Barden Triangle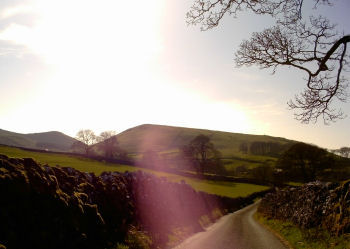 The so-called "Barden Triangle" is defined as an area around the head of Lower Wharfedale which includes weird places having supposedly supernatural associations such as the reputedly haunted limestone gorge of Troller's Gill, the strange conical knoll of Elbolton Hill near Thorpe (said to be the "Hill of the Fairies") and the Dibble's Bridge (which - along with several similar other old bridges in England - was allegedly built by the Devil).
The area of Barden (including Barden Tower and Barden Bridge) forms the southern apex of the triangle, with Cracoe and the Cracoe Reef Knolls and the top end of Troller's Gill roughly defining the northern-most edges. [N.B. If you do visit, make sure to look out for this cheeky chappie; he'll be looking out for you !]
Villages and hamlets lying within the triangle include Appletreewick, Burnsall, Linton, Grassington, Threshfield, Skyreholme, Hebden and Thorpe.
---
The Yorkshire Dales - Home Page
The Yorkshire Dales website is designed, maintained and promoted by Eagle Intermedia Publishing Ltd.