Elbolton Hill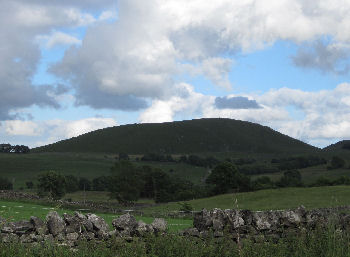 Elbolton is a limestone hill overlooking the hamlet of Thorpe near Burnsall in the Yorkshire Dales.
The hill is one of the Cracoe Reef Knolls and is said to possess weird magical powers. Known as the "Hill of the Fairies", Elbolton is one of several interesting and supposedly supernatural places lying within the so-called "Barden Triangle".
Being composed of reef limestone there are several small caves and potholes on Elbolton, including Elbolton Cave (which is also known as "Navvy Noodle Hole") where prehistoric remains have been found.
---
The Yorkshire Dales - Home Page
The Yorkshire Dales website is designed, maintained and promoted by Eagle Intermedia Publishing Ltd.