Welcome to Ilkley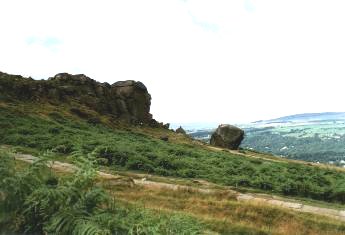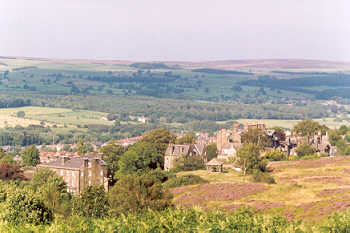 Ilkley is a very pleasant spa town situated in Lower Wharfedale at the southern edge of the Yorkshire Dales. Although within easy reach of the cities of Leeds and Bradford in nearby Bronte Country, Ilkley is surrounded by fine unspoiled scenery, with Ilkley Moor and the famous Cow and Calf rocks positioned just above the town.
Also on the moor is the famous whitewashed building known as White Wells - which houses a bath at a site which (reputedly) dates from Roman times. [N.B. Ilkley was an important outpost during the Roman occupation, when it was known as "Olicana".]
Ilkley Moor is also famous as the setting of the folk song "On Ilkla Moor Baht'at" - widely recognised throughout the world as Yorkshire's county anthem.
Other attractions include the Victorian bath house in the town itself, and the recently refurbished Ilkley Pool and Lido, one of the country's last remaining outdoor public swimming pools. [N.B. Owing to the generally inclement nature of the British weather, this particular attraction is usually open in the summer months only !]
Regular events in the town include the Ilkley Literature Festival and the Ilkley Music Festival. The town is also home of the Airedale Symphony Orchestra (although Ilkley is of course actually in Wharfedale).
Charles Darwin stayed in the town during the publication of "The Origin of Species", a visit which is commemorated by the town's Darwin Gardens and the Millennium Maze.
Just to the north of Ilkley lies Bolton Abbey in the Duke of Devonshire's extensive country estate, and the beautiful Yorkshire Dales National Park. Ilkley is also the official starting point of the Dales Way long distance footpath which heads north through Wharfedale.
Please click here for links to other Ilkley and Yorkshire related websites.
---
Ilkley (on the edge of the Yorkshire Dales) - Home Page
The Yorkshire Dales website is designed, maintained and promoted by Eagle Intermedia Publishing Ltd.