Malham Cove Rising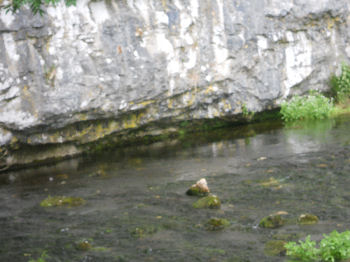 Malham Beck issues from the foot of Malham Cove at Malham Beck Rising, the entrance to a submerged cave system which has been penetrated by intrepid cave divers.
Dye tests show that he waters here mainly originate from a stream near the smelt mill chimney on Malham Moor, and not the more obvious Water Sinks further up the Dry Valley above Malham Cove.
The hydrology of the area is certainly complex, and it is hoped that one day the divers will be able to find themselves in to a larger cave system in the limestone of the Great Scar facies.
---
Malham (in the Yorkshire Dales) - Home Page
The Yorkshire Dales website is designed, maintained and promoted by Eagle Intermedia Publishing Ltd.