Skyredale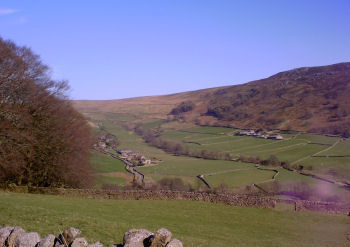 Skyredale is the valley of the Blands Beck (which runs by the hamlets of Skyreholme and Upper Skyreholme beneath Simon's Seat to meet up with Lower Wharfedale just below Appletreewick).
Skyredale is of particular geological interest as it marks the approximate boundary of the Skyreholme anticline and the Craven Fault - the surface rock to the north being of greyish white carbonferous limestone, while the rocky outcrops of Simon's Seat lying immediately to the south are of dark millstone grit.
[N.B. Please click here more information about the geology of the Yorkshire Dales.]
---
The Yorkshire Dales - Home Page
The Yorkshire Dales website is designed, maintained and promoted by Eagle Intermedia Publishing Ltd.