New calendar celebrates the Yorkshire Dales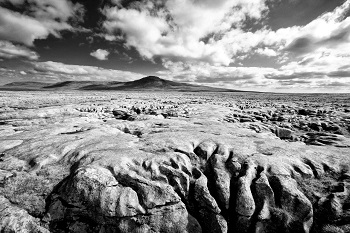 The above photograph of Ingleborough by Nigel Hunter
appears by courtesy of the Yorkshire Dales Millennium Trust
The Yorkshire Dales area has provided the inspiration for a charity calendar that will raise money to help protect and enhance the precious landscape of the dales - ensuring that it remains a special place for future generations to enjoy.
The Yorkshire Dales Millennium Trust (YDMT) 2015 calendar features photographs of classic dales locations including Malham Cove, Scaleber Falls, Ingleborough and Pen-y-ghent - to name just a few.
Images of these iconic locations were brought together through a Facebook photography competition which the Trust ran in collaboration with Yorkshire Cottages, part of Wyndham Vacation Rentals (UK) Ltd. (whose subsidiary Cottages4U has been a longstanding advertising partner of Eagle Intermedia).
Drew Dunn, director at Yorkshire Cottages said: "The calendar celebrates the beauty of the dales, which draws thousands of tourists here every year and we hope that visitors – as well as locals – will buy the 2015 calendar. It is not only a collection of superb photos hanging on the wall, but a year-long reminder of YDMT's important contribution to protecting the dales. We are delighted to have been involved with this project."
More than 150 images were entered into the competition by photographers from the local area as well visitors to the Yorkshire Dales from all corners of England, Scotland and Wales as well as from Europe and even from as far away as Japan !
Professional Settle-based photographer, and long-standing supporter of YDMT, Steve Finch of Steve Finch Photography had the difficult task of choosing just one overall winner. After much deliberation a striking shot of limestone pavement near Ingleborough, by Nigel Hunter from Lancashire, was crowned the winner.
Steve said: "Judging other peoples photography to select a winner from such a strong field of entries is difficult, but 'there can be only one'! I chose the winning entry based up technical proficiency (the photography was not a lucky accident), and its artistic appeal. The location is popular with photographers, however this photograph held my attention, had treated the foreground very well and, at a time when people tend to 'over-do' software enhancements, was brave enough to be presented as an honest black and white image. It is a simple, but powerful record of the spirit of the location."
As well his winning photograph featuring in the charity's 2015 calendar, Nigel was awarded a prize hamper of tasty Yorkshire produce, courtesy of Yorkshire Cottages.
Nigel said: "I love all aspects of photography and spend many hours taking photos and editing them. Landscape photography is my first love, and the UK has the best scenery in the world. Every time you go, you'll see something different and I find it a great honour to be able to showcase my adventures."
All of the participating photographers provided their images for free to help the charity raise vital funds to support work caring for the landscape, environment and communities of the Yorkshire Dales. All the design work was also carried out for free by Skipton based design and web agency Fever Digital, as part of its pledge to support the work of the Trust and give something back to the area.
Richard Pettifer, Fever Digital Managing Director, said: "I am proud that this is the third year Fever Digital has been able support YDMT in this way. We are lucky to have an office in such a wonderful location, on the edge of the dales, and I'm pleased to be able to play our part in keeping the dales a special place to live and work."
Sarah Brewer, Fundraising and Communications officer at the YDMT, added: "Our 2015 calendar is a real team effort with the Yorkshire Dales at its heart. It is inspired by the Dales and has been judged, designed and printed by experts in the local area to support this unique place. I'd like to thank all the talented photographers who shared their photographs with us, along with Yorkshire Cottages, Steve Finch Photography and Fever Digital for all their help in producing this lovely calendar. We are thrilled with the finished result."
All money raised through the sale of the calendar will play a vital role in helping YDMT to continue important projects across the Yorkshire Dales and beyond, including restoring wildlife habitats such as broadleaf woodlands and wildflower hay meadows, education and outreach work, improvements to access, and supporting local community groups and businesses.
The calendar is available to buy online priced at £10 (including UK delivery) via http://www.ydmt.org/shop or by calling the YDMT on UK 015242 51002.
[N.B. Please mention the Eagle Intermedia Yorkshire Dales website when making your enquiries.]
[News item based on press release supplied by the The Yorkshire Dales Millennium Trust (YDMT) posted August 2014.]
---
The Yorkshire Dales is designed and maintained by Eagle Intermedia Publishing Ltd.