Penyghent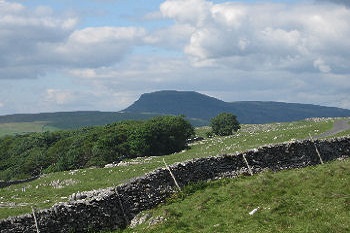 Like a crouching lion, the dark mass of Penyghent dominates Ribblesdale and the head of Littondale on the western side of the Yorkshire Dales.
At 2273 ft this fell is actually the lowest of the area's famous "Three Peaks" but it is by no means the least spectacular, with its towering cliffs and escarpments, caves and potholes.
Penyghent is most usually ascended from the village of Horton in Ribblesdale (which forms a traditional starting and finishing point for the whole of the Three Peaks circuit). This route leads past several caves and potholes on the lower slopes of the mountain, including the quarry-like chasm of Hull Pot and the sinister slit-like mouth of Hunt Pot. [N.B. For more information on the area's caves and potholes, please see caving and potholing in the Yorkshire Dales].
The Pennine Way long distance footpath passes over the top of Penyghent, the peak and ridge forming a watershed of the Pennine fells - drainage on the western flank leading into the River Ribble (which flows through Ribblesdale westwards into the Irish Sea near Preston), while water on the eastern moors drains into Littondale, Upper Wharfedale and Malhamdale, feeding the Rivers Wharfe and Aire and their tributaries (including the Skirfare) flowing south and eastwards to the Humber estuary and the North Sea beyond Kingston Upon Hull. At the very heart of the Pennine chain, this is truly the "backbone of England"...
---
The Yorkshire Dales - Home Page
The Yorkshire Dales website is designed, maintained and promoted by Eagle Intermedia Publishing Ltd.