Wharfedale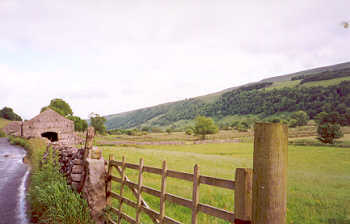 More views of Wharfedale
Running from north to south, Wharfedale is one of the Yorkshire Dales' longest and most beautiful valleys.
Rising on the high moors of Langstrothdale Chase, the infant River Wharfe passes down the remote valley of Langstrothdale and through the hamlets of Yockenthwaite and Hubberholme to the village of Buckden at the head of what from then on is then known as "Wharfedale".
From here the River Wharfe travels on southwards, through the villages of Starbotton, Kettlewell, Conistone and Kilnsey (famous for Kilnsey Crag, a dramatically overhanging limestone cliff - popular with climbers and tourists alike) - just north of which it is met by the tributary valley of Littondale and the River Skirfare.
Further downstream the River Wharfe passes between the villages of Grassington and Threshfield, then on through Burnsall, The Strid and Bolton Abbey, from where the river passes out of the national park and on through Ilkley and Otley to meet the River Aire in the Vale of York beyond the city of Leeds en route to its confluence with the River Ouse and final destination of the Humber Estuary and the North Sea.
As a matter of convention, Wharfedale is often divided into what is arbitrarily known as "Upper Wharfedale" and "Lower Wharfedale" - lying respectively upstream and downstream of the villages of Grassington and Threshfield.
Tributary valleys of Upper Wharfedale include Langstrothdale and Littondale, whilst tributary valleys of Lower Wharfedale include Dibblesdale, Skyredale, the Valley of Desolation, Kex Gill and the Washburn Valley.
Other Wharfedale related websites:
The following (externally maintained) websites may also be of interest:
[N.B. Please mention the Eagle Intermedia Yorkshire Dales website when making your enquiries.]
IMPORTANT: The above links may refer to external websites whose content, products and/or services are not necessarily recommended or endorsed by Eagle Intermedia.
---
The Yorkshire Dales - Home Page
The Yorkshire Dales website is designed, maintained and promoted by Eagle Intermedia Publishing Ltd.