Ingleborough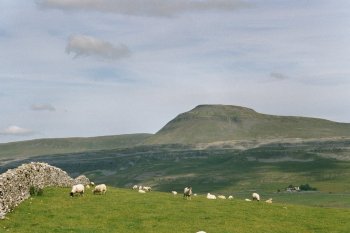 At 2,373 ft, Ingleborough, with its famous flat topped profile, is perhaps best known of the Yorkshire Dales' famous "Three Peaks" (the other two being Whernside and Penyghent).
The distinctive shape of Ingleborough is due to the underlying geology - a cap of millstone grit sitting atop a strata of carboniferous limestone and shales known as the "Yoredale series" lying on a platform of carboniferous "Great Scar" limestone. Streams running off the millstone grit and the Yoredale shales meet limestone rock further down the slopes where they disappear underground, falling into deep potholes and caverns such as those at Gaping Gill on the moors above Clapham and Alum Pot and the Long Churn / Diccan Pot system near Selside in upper Ribblesdale.
After passing through complex underground cave systems which have developed mainly in the Great Scar limestone these streams emerge at resurgence caves lower down, often at points of geological unconformity where the limestone lies immediately on top of older impermeable rock strata. In the case of the Gaping Gill system, the main resurgence occurs at Beck Head Cave in Clapdale - adjacent to the main entrance of Ingleborough Cave (to which it is connected).
Other cave systems lying beneath the Ingleborough massif include White Scar Cave (which like Ingleborough Cave is also a popular show cave), as well as various caves and potholes on an area known as "the Allotment" to the south, Newby Moss to the west as well as White Scars and the Southerscales area to the north. Systems on the eastern side include Alum Pot and Long Churn Caves etc.
[N.B. For more information on the area's caves and potholes, please see caving and potholing in the Yorkshire Dales].
Various paths lead to the summit of Ingleborough, with popular ascents including the route which leads from Clapham through Clapdale and Trow Gill, and the route from Ingleton via Fell Lane and Crina Bottom.
---
The Yorkshire Dales - Home Page
The Yorkshire Dales website is designed, maintained and promoted by Eagle Intermedia Publishing Ltd.