White Scar Caves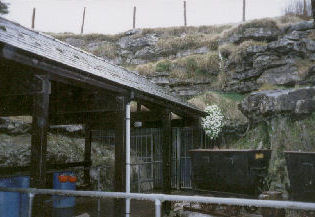 Some more views of White Scar Caves
White Scar Cave is a show cave beneath White Scars just outside Ingleton in the Yorkshire Dales.
Visitors to the caves walk through an artificially enlarged fissure to meet a natural stream passage - containing underground waterfalls, stalactites, stalagmites, flowstones and other natural limestone formations. Finally, a recently excavated tunnel and walkway brings visitors to the impressive Battlefield Chamber, a huge boulder-strewn cavern which was formed by glacial flood waters during the last ice age.
The Battlefield Cavern marks the end of the show cave as open to the general public, but for cavers and potholers there are miles more passages and caverns to explore (with the system apparantly taking in feeder streams from Quaking Pot and Greenwood Pot near Crina Bottom and Boggarts' Roaring Holes on Newby Moss).
Other White Scar Caves related websites and web pages
For more information about White Scar Caves, please also visit the following external website(s):
[N.B. Please mention the Eagle Intermedia Yorkshire Dales website when making your enquiries.]
More information about caves, caving and potholing in the Yorkshire Dales.
---
The Yorkshire Dales - Home Page
The Yorkshire Dales website is designed, maintained and promoted by Eagle Intermedia Publishing Ltd.