Gaping Gill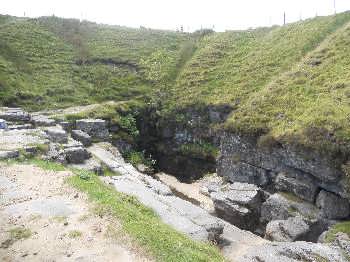 First explored by the pioneering French speleologist and celebrated caver Édouard-Alfred Martel in 1895, Gaping Gill is a famous pothole on the limestone moors flanking Ingleborough just above Clapdale and the village of Clapham in the "Three Peaks" area of the Yorkshire Dales.
Situated at the bottom of a large crater, Gaping Gill is a yawning abyss which engulfs Fell Beck, the stream crashing down into a cathedral sized main chamber in what is probably Britain's highest unbroken waterfall. [N.B. The highest unbroken waterfall on the surface is claimed to be Hardraw Force in nearby Wensleydale.]
A network of tunnels lead off from the main chamber (connecting with other potholes in the area - including Bar Pot and Disappointment Pot), with the stream eventually reappearing as Clapham Beck at Beck Head Cave a short distance from the main (dry) entrance of Ingleborough Cave in Clapdale. Although this was proven by florescent dye tests many years ago it was only in the 1980s that the connection was finally discovered by cave divers.
At 365ft deep the main shaft and main chamber of Gaping Gill are obviously extremely dangerous, and their exploration is usually available only to experienced potholers. On some bank holiday weekends, however, local caving clubs set up a special platform and winch which for a fee lowers intrepid members of the public into this yawning abyss.
More information about caves, caving and potholing in the Yorkshire Dales.
---
The Yorkshire Dales - Home Page
The Yorkshire Dales website is designed, maintained and promoted by Eagle Intermedia Publishing Ltd.