Ingleborough Cave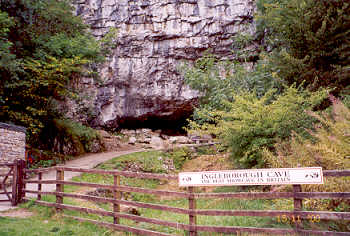 The entrance to Ingleborough Cave is at the base of a limestone cliff in Clapdale, a pleasant walk from the village of Clapham in the heart of the Yorkshire Dales' "Three Peaks" country.
Part of the cave is electrically lit and open to members of the public, but at the end of the show cave what lies beyond is strictly for experienced cavers and potholers only - a complex of caverns which connect with the main Gaping Gill system, the waters from which emerge at Beck Head Cave a short distance from the main (dry) entrance of Ingleborough Cave.
Other Ingleborough Cave websites:
For more information about Ingleborough Cave, please also visit the following externally maintained website(s):
[N.B. Please mention the Eagle Intermedia Yorkshire Dales website when making your enquiry.]
More information about caves, caving and potholing in the Yorkshire Dales.
---
The Yorkshire Dales - Home Page
The Yorkshire Dales website is designed, maintained and promoted by Eagle Intermedia Publishing Ltd.