Fountains Fell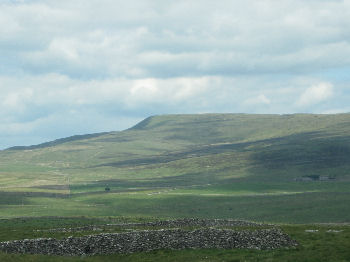 Fountains Fell lies in a triangle between Ribblesdale, Littondale and Malhamdale in the Yorkshire Dales.
The Pennine Way long distance footpath passes over Fountains Fell, which forms part of the watershed of the Pennine fells: water on the western flank drains into the River Ribble (which flows through Ribblesdale and the Ribble Valley westwards into the Irish Sea near Preston), while water on the eastern moors drains into Littondale, Upper Wharfedale and Malhamdale, feeding the Rivers Wharfe and Aire and their tributaries (including the Skirfare) flowing south and eastwards to the Humber estuary and the North Sea beyond Kingston Upon Hull. At the very heart of the Pennine chain, this is truly the "backbone of England"..
Fountains Fell is so named because of its associations with Fountains Abbey, the estate of which once controlled vast tracts of the Yorkshire Dales area prior to Henry VIII's dissolution of the monasteries.
---
The Yorkshire Dales - Home Page
The Yorkshire Dales website is designed, maintained and promoted by Eagle Intermedia Publishing Ltd.