Gragareth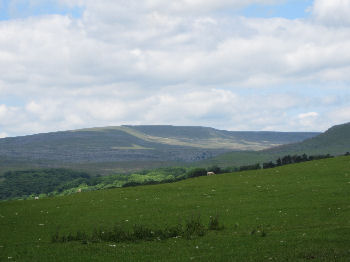 The broad ridge of Gragareth dominates the skyline above Kingsdale to the north of Ingleton, with the moors of Leck Fell and Ireby Fell lying on the western side.
At the northern end of Gragareth is the massif of Great Coum overlooking Dent and the valley of Dentdale.
The slopes of Gragareth are particularly famous for their caves and potholes, with the Kingsdale master cave and Easegill Caverns being two of the largest cave systems in the country. There are also limestone outcrops, most notably Hunt's Cross which overlooks Ingleton at the western end of the fell.
[N.B. Please click here more information about caves, caving and potholing in the Yorkshire Dales.]
---
The Yorkshire Dales - Home Page
The Yorkshire Dales website is designed, maintained and promoted by Eagle Intermedia Publishing Ltd.