Knaresborough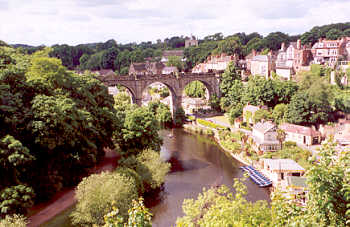 Knaresborough is an ancient market town situated around a magnesian limestone gorge on the River Nidd just outside Harrogate near the end of Nidderdale to the south-east of the Yorkshire Dales.
Famous for Mother Shipton's Cave and the adjacent Petrifying Well (where running water gradually coats suspended objects in a limestone deposit - thus turning them to stone), Knaresborough also boasts a fine castle and several other attractions - including a house built in to the cliff face and a chapel in the rock at the side of the gorge.
Other Knaresborough websites
For more information about Knaresborough and the surrounding area, please also visit the following externally maintained websites and web pages:
IMPORTANT: The above links may refer to external websites whose content, products and/or services are not necessarily recommended or endorsed by Eagle Intermedia.
[N.B. Please mention the Eagle Intermedia Yorkshire Dales website when making your enquiries.]
---
The Yorkshire Dales - Home Page
The Yorkshire Dales website is designed, maintained and promoted by Eagle Intermedia Publishing Ltd.