Nidderdale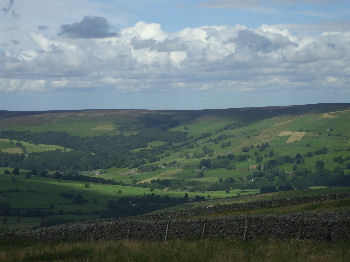 Some more views of Nidderdale
Although technically outside of the Yorkshire Dales National Park boundary, Nidderdale (along with the Washburn Valley as well as an area to the east of Nidderdale) has been designated as an "Area of Outstanding Natural Beauty" and has every right to be included in any definition of the "classical" Yorkshire Dales area.
Rising on the wild moors on the eastern flanks of Great Whernside and Little Whernside, the infant River Nidd flows out from the desolate and expansive moorland reservoirs of Scar House and Angram before (in times of relatively dry weather) disappearing underground at Nidd Sinks and rising again at Nidd Heads. [N.B. In times of relative spate some of the river takes the overground course along the otherwise dry river bed.]
Further down the valley the river feeds another large reservoir, Gouthwaite, just above Pateley Bridge.
Below Pateley Bridge the dale becomes much gentler in character as the River Nidd flows onwards to Knaresborough and out of the dale to an eventual union with the River Ouse near the historic English Civil War battlefield at Marston Moor in the Vale of York.
Attractions and places in and near Nidderdale include How Stean Gorge near Lofthouse and Middlesmoor towards the head of the dale, Ramsgill, Stump Cross Caverns near Pateley Bridge, Brimham Rocks near Summerbridge, Plumpton Rocks near Knaresborough, and Ripley Castle near Harrogate.
As a matter of convention, Nidderdale is often divided into what is arbitrarily known as "Upper Nidderdale" and "Lower Nidderdale" - lying upstream and downstream of Pateley Bridge respectively.
Other Nidderdale websites
For more information about Nidderdale and the surrounding area, please also visit the following externally maintained websites and web pages:
[N.B. Please mention the Eagle Intermedia Yorkshire Dales website when making your enquiries.]
IMPORTANT: The above links may refer to external websites whose content, products and/or services are not necessarily recommended or endorsed by Eagle Intermedia.
---
The Yorkshire Dales - Home Page
The Yorkshire Dales website is designed, maintained and promoted by Eagle Intermedia Publishing Ltd.