New powered tramper access for Ingleborough Cave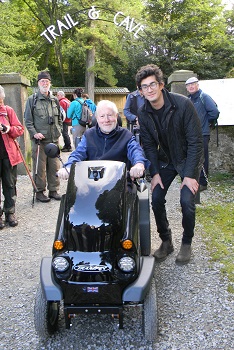 The above photograph appears by courtesy of the Yorkshire Dales Millennium Trust
A new all-terrain powered wheelchair is opening up Clapdale and the route to Ingleborough Cave (the UK's only fully wheelchair accessible showcave) to people who have difficulty walking.
The all-terrain powered wheelchair, which is known as a "tramper", is available free of charge by pre-arrangement from the entrance to the Ingleborough Estate nature trail in Clapham. The 1.3 mile nature trail passes by Clapham Lake and winds through scenic woodland and open pastures before reaching the imposing entrance to Ingleborough Cave.
The tramper has been funded by grants from the Yorkshire Dales National Park Authority's Sustainable Development Fund and Stories in Stone, a four-year programme of community and heritage projects developed by the Ingleborough Dales Landscape Partnership, which is led by the Yorkshire Dales Millennium Trust and mainly funded by the Heritage Lottery Fund.
Debbie Boswell, Stories in Stone's "Discover Ingleborough" officer, said: "One of the scheme's aims is to increase access opportunities for all visitors to the Ingleborough area, so we are really pleased to see this tramper introduced to one of the most iconic limestone landscapes in the country. We're sure it will be very well used!"
Andrew Jarman, manager of Ingleborough Cave, said: "We have been looking for a solution to open up access for the less able through the beautiful Ingleborough Estate Nature Trail that leads to us here at Ingleborough Cave for some time. Thanks to the Yorkshire Dales National Park Authority and Yorkshire Dales Millennium Trust this has now become a reality, and we couldn't be happier to welcome new visitors who wouldn't have been able to see this beautiful underground wonder in times gone by."
Anyone interested in using the tramper needs to book it in advance. A standard wheelchair is also available for accompanied tramper users wishing to join a guided tour of the cave. For further information or to make a reservation email info@ingleboroughcave.co.uk or telephone UK 01524 251242.
For more information about accessibility in the Yorkshire Dales region please visit the disabled information section of this website.
[N.B. Please mention the Eagle Intermedia Yorkshire Dales website when making your enquiries.]
[News item based on press release supplied by the The Yorkshire Dales Millennium Trust, posted September 2017.]
---
The Yorkshire Dales is designed and maintained by Eagle Intermedia Publishing Ltd.