Tree planting dedicated to the United Bank of Carbon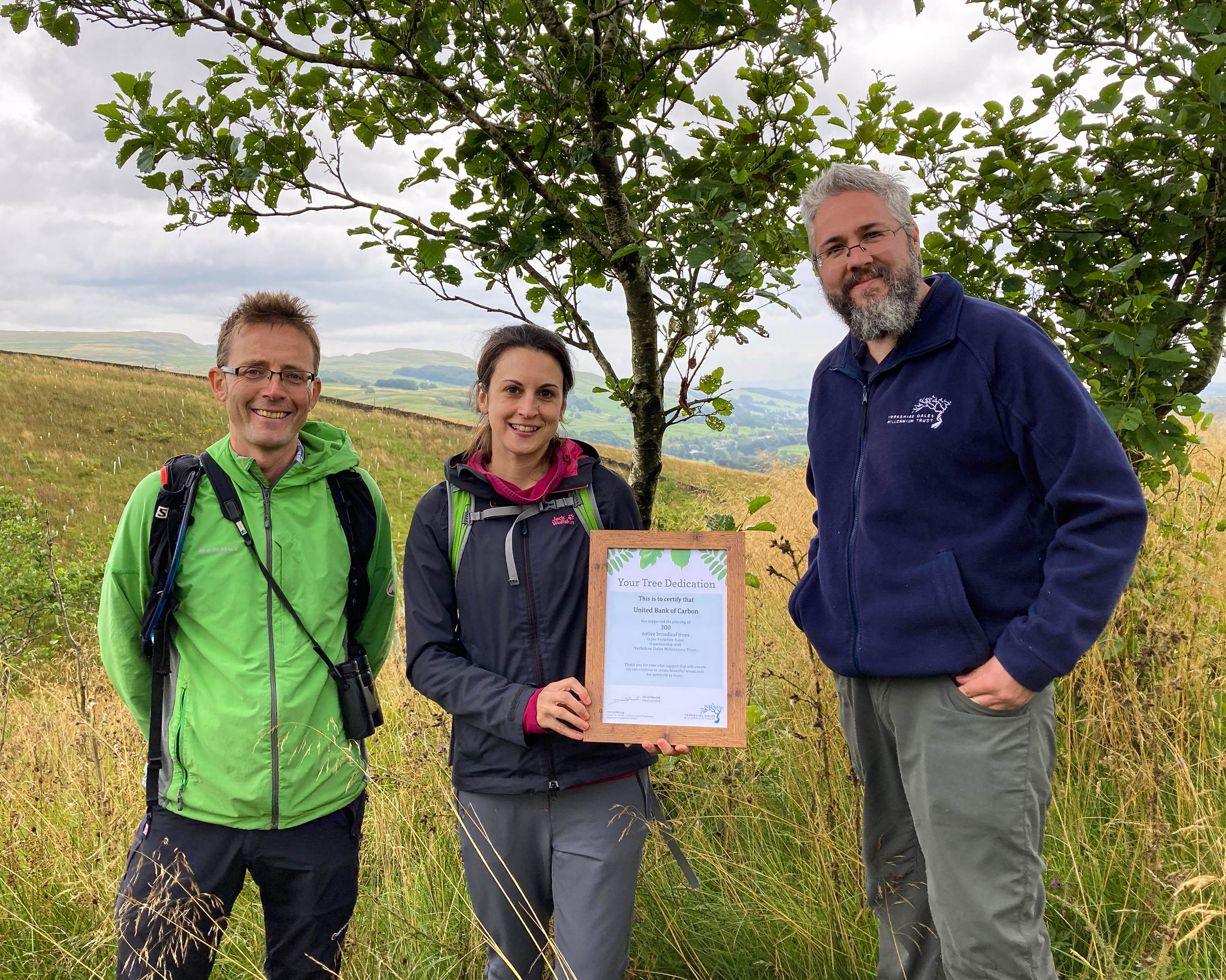 The above photograph appears by courtesy of the Yorkshire Dales Millennium Trust
The Yorkshire Dales Millennium Trust (YDMT) has dedicated 300 trees to the United Bank of Carbon (UBoC) for their help in creating new woodlands in the Yorkshire Dales.
The Clapham based charity linked with the UBoC to plant trees and collect redundant plastic tree guards at Bargh Wood near Stainforth in Ribblesdale. Nearly 4,800 trees have been planted at this upland site including sessile oak, rowan, holly, downy birch, alder, Scots Pine, quick thorn, and willow.
The UBoC is a charity that protects, plants, and restores trees and forests both in the UK and across the world. The UBoC has been involved at Bargh Wood in various ways over the past decade to help maintain this important ecosystem.
Dominick Spracklen, UBoC's Scientific Lead at the University of Leeds said: "Creating new native woodlands on our doorstep is vital as we try to address the climate crisis and biodiversity emergency. New native woodlands will lock up carbon, provide a home for wildlife and a beautiful place for people to visit and enjoy. We were very pleased to see the difference our support had made, and we are looking forward to seeing Bargh Wood develop into a beautiful native woodland."
Bargh Wood is a native broadleaf woodland located around half a mile from Stainforth with sweeping views towards Pendle Hill and Pen-y-Ghent.
As well as creating vital habitat for wildlife, the wood is also part of the YDMT's Plastic Free Woodlands project, which aims to reduce the use of plastic in woodland creation. Supported by the European Outdoor Conservation Association more than 20,000 redundant plastic tree tubes have already been removed from the dales landscape – including more than 1,000 at Bargh Wood – and 100 trees have been planted with alternative tree guards there as part of a wider trial.
The YDMT's Plastic Free Woodlands Project Officer, Mike Appleton, added: "It was great to be able to show Dominick and Cat Scott from the UBoC team around Bargh Wood, so they could see first-hand what a thriving new woodland it is developing into.
"Thanks to organisations like UBoC we have been able to create 56 new woodlands over the last three years and remove and recycle thousands of redundant tree guards from the landscape. We're delighted with their support and we're really looking forward to welcoming them to Bargh Wood as it continues to develop."
[News item based on press release supplied by the The Yorkshire Dales Millennium Trust, posted September 2021.]
---
The Yorkshire Dales is designed and maintained by Eagle Intermedia Publishing Ltd.