Giggleswick Scar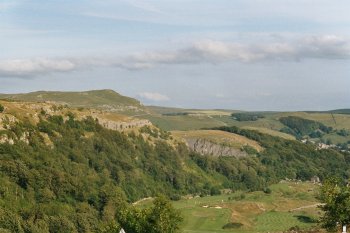 Giggleswick Scar is a series of long limestone cliffs which were formed by the Craven Fault and which run along the route of the old A65 (prior to the construction of the Settle by-pass), between the village of Giggleswick and Buckhaw Brow.
Heavily wooded, the cliffs are shrouded in trees disguising their significance as an important geological feature which would otherwise be a much more noticable landmark as viewed from the current route of the A65.
There are several caves in the cliffs of Giggleswick Scar, including Kinsey Cave, Kelcow Cave, Spider Cave, Cave Ha, Wall Cave and Schoolboy Cave.
The southern end of Giggleswick Scar is marked by the Schoolboy Tower, a large cairn associated with Giggleswick School and which overlooks the yawning chasm of Giggleswick Quarry.
At the side of the road which passes by the foot of the scar is the Ebbing and Flowing Well.
Return to the Yorkshire Dales Home Page
---
The Yorkshire Dales - Home Page
The Yorkshire Dales website is designed, maintained and promoted by Eagle Intermedia Publishing Ltd.