Chapel-le-Dale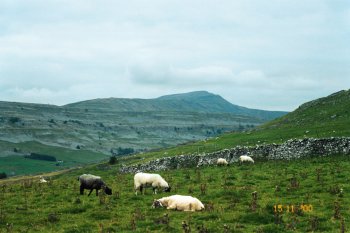 Taking its name from the eponymous village of Chapel le Dale is the valley of the River Doe between Ribblehead and Ingleton in the heart of Yorkshire's famous "Three Peaks" area.
Having Ingleborough to the south of the valley, and Whernside to the north, many streams run down from the fells, feeding various cave systems (including e.g. Weathercote Cave, White Scar Cave, Skirwith Cave, Great Douk Cave and Bruntscar Cave) etc. These streams converge in to Chapel Beck, which runs along the valley bottom and feeds the some of the spectacles of the famous Ingleton waterfalls walk.
Having a distinctive "U-shaped" cross section like many of the dales Chapel-le-Dale is a classic example of a glacial valley, having been carved out by ice during the last Ice Age, and was inhabited by the first human settlers thereafter.
Besides Ingleton the only significant village in the valley is Chapel le Dale itself..
---
The Yorkshire Dales - Home Page
The Yorkshire Dales website is designed, maintained and promoted by Eagle Intermedia Publishing Ltd.