The Tour de Yorkshire comes to Lower Wharfedale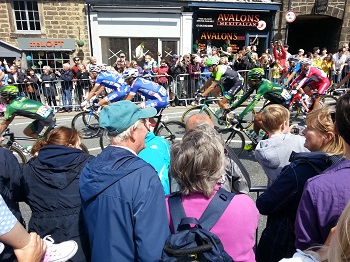 In scenes reminiscent of the Grand Depart of the Tour de France in 2014 (pictured above), on Sunday 3rd May 2015 Stage Three of the inaugural "Tour de Yorkshire" international cycling race came to Lower Wharfedale.
Descending in to the valley at Addingham the peloton raced though Ilkley and Otley en route to a grand finish at Roundhay Park on the outskirts of Leeds.
Highlights of the route included a climb past the "iconic" view of the Cow and Calf rocks up on Ilkley Moor and an ascent of Otley Chevin.
After this first year the Tour de Yorkshire is planned to take place on an annual basis, and while the routes used in forthcoming years may vary the race will undoubtedly boost interest in cycling in Yorkshire and cycling in the Yorkshire Dales as a result !
[News item posted by Eagle Intermedia - May 2015.]
---
The Yorkshire Dales is designed and maintained by Eagle Intermedia Publishing Ltd.