Welcome to Malham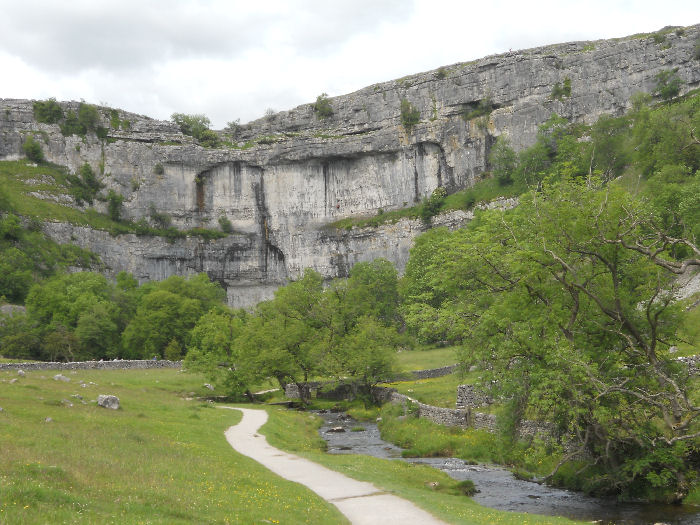 Malham is situated near the head of Malhamdale, north of Skipton and Gargrave in the Yorkshire Dales.
Besides being the inspiration for Charles Kingsley's classic children's novel "The Water Babies" and paintings by Turner, the area around Malham is perhaps most famous as featuring some of the finest (and most spectacular) limestone scenery in the country.
Main attractions include Malham Cove (a sheer limestone cliff with the source of Malham Beck which issues from Malham Cove Rising at its base), Malham Tarn, and Gordale Scar (a very impressive limestone gorge containing two waterfalls).
Also of interest are Water Sinks, the Dry Valley of the Watlowes, and the picturesque waterfall of Janet's Foss as well as the village of Malham itself.
The Pennine Way long distance footpath passes through the village, taking in the sights of Malham Cove, the Dry Valley, Water Sinks and Malham Tarn on its route northwards through the Yorkshire Dales.
With its spectacular limestone scenery and karst landscape features, the Yorkshire Dales area and Malham in particular is popular with walkers and ramblers, rock climbers, cavers and potholers, geography field trips and geologists alike.
Events held in and around Malham village include the annual Malham Show, which is usually held sometime in August.
Please click here for links to other Malham and Yorkshire Dales related websites.
---
Malham (in the Yorkshire Dales) - Home Page

The Yorkshire Dales website is designed, maintained and promoted by Eagle Intermedia Publishing Ltd.