Fourth Tour de Yorkshire brings international cycling action back to the dales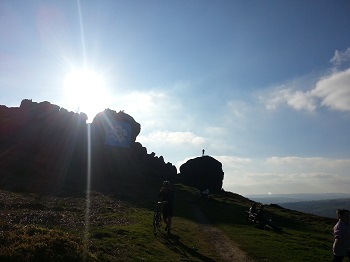 A suprisingly pleasant and sunny May bank holiday weekend saw the fourth "Tour de Yorkshire" cycling event taking place in the Yorkshire region, this time extended to four days with three of the stages once again taking various places in the Yorkshire Dales area.
The second stage of the tour took place on Friday 4th May 2018 and started out from Barnsley and took in the southern end of the Vale of York before entering Lower Wharfedale and passing through Otley leading up to a hill climb and (for the first time in the series) a summit finish at the Ilkley on Ilkley above Ilkley (pictured above).
On Saturday 5th May 2018 the third stage started from Richmond in Swaledale before heading out eastwards across the Vale of Mowbray to the North York Moors and the Yorkshire Coast, while on Sunday 6th May 2018 the fourth and final stage passed through Bronte Country before heading up Wharfedale and over the very challenging Park Rash down in to Coverdale and lower Wensleydale then down via Pateley Bridge and Otley (again) to Leeds.
Please click here for more information and news about cycling in Yorkshire.
[News item posted by Eagle Intermedia - May 2018.]
---
The Yorkshire Dales is designed and maintained by Eagle Intermedia Publishing Ltd.